Meet the Team Who Made It All Possible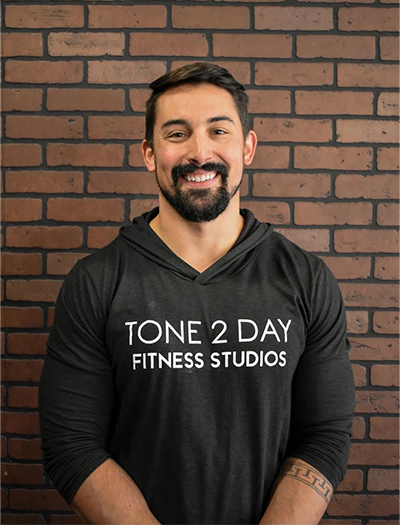 Alex V.
(Personal Training Manager)
Alex has been a strength and conditioning coach and trainer since 2012. He started his career as a Head Strength and Conditioning Coach at Hortonville High School in Wisconsin. Wanting to continue his education, he then pursued his Master's Degree at the U of MN. There, he interned with the strength and conditioning coaching staff, working directly with the Gophers athletes. After receiving his M. Ed., he wanted to pursue a different path into personal training, and that is when he ended up at Tone2Day in 2016!
Alex personally enjoys powerlifting, Olympic lifting, and cycling for his own training. He has competed and coached in multiple powerlifting meets and plans to compete in an Olympic lifting competition in the future. He also enjoys brewing his own beer, snowboarding, frolfing. Apart from these physical activities for fun, he also enjoys playing computer games.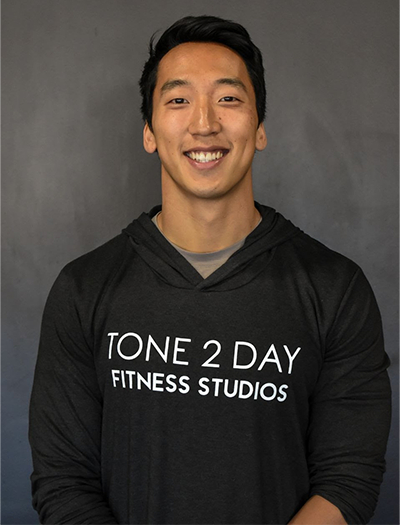 Kyler E.
(General Manager)
Kyler graduated as an undergrad at Concordia College in Moorhead, MN. Shortly after, he interned at the Sanford Health POWER Center, working with weight loss clients, youth sports athletes, and semi-professional athletes. Wanting to further his education, he then pursued his Master's Degree in Clinical Exercise Physiology at the College of St. Scholastica in Duluth, MN. Immediately after grad school, he worked a couple of different positions in the medical field as a Clinical Exercise Physiologist in Cardiac Rehab and a Pacemaker Technician in a medical device clinic.
He soon found his passion for personal training in 2016 when he worked at Life Time Fitness in Lakeville, MN, where he had a few different positions as a Metabolic Technician, Personal Trainer, Assistant PT Manager, and Small Group Instructor. In 2021, he came to Tone2Day to continue educating and training the members of our community!
Kyler personally enjoys Olympic lifting and Crossfit-style training, and he continues to compete in Crossfit competitions year-round. In his downtime, you might see him play golf, volleyball, and a random pick-up game of hockey. He also loves petting dogs and watching F.R.I.E.N.D.S.
Members can join our facility at any time! Although most of our programming and sessions follows specific training phases throughout the months and year, they are designed to not only benefit the variety of goals of our current members, but also allow flexibility for those who join us at their own convenience.
Absolutely not. We would love to be a big part of your health and fitness journey, whether it is at the beginning or in the middle. Our mission is to educate and progress you. So, if you are new to fitness or are a veteran "fitness-er", we are confident that we can offer valuable education, guidance and coaching to everyone who wants to see progress and learn…period.
We have an 'Open Availability' schedule for our Semi-Private sessions. This means that we have many class times available in the morning, early afternoon, and evening for you to roster yourself in, as long as the session has not already been filled (maximum of 5 members per session). For Private 1-on-1 sessions, it is up to the coach and client to find times/days that align with both schedules since the bulk of our schedules are reserved for Semi-Private sessions. Lastly, for the Group Classes, there are set times during the week for these (please check the 'Schedule Availability' tab).
For both Semi-Private and Private 1-on-1 sessions, you pay a monthly membership for the current month. Depending on how many sessions you wish to attend each week, we have contracts for 2x/week (8 per month) or 3x/week (12 per month).
---The Group Classes are available for you to attend for free when you sign up for a program (Semi-Private or Private 1-on-1). Currently, these group classes are not offered as a separate membership, but more for those current members who want/need something to complement the current program they are already paying for.
---*Cancellation Policy: If there ever comes a day when a current member has to cancel their membership, we ask for a minimum 30-Day Notice. Any recurring monthly membership payments after this 30-Day window will be stopped.
We want to make your experience with us more than just a gym to workout at! Although your health and fitness goals are a top priority, we strive to have an accepting, motivating and friendly community that will help make your experience enjoyable. Here are just a few things our community and coaches are doing for our members:
Private Facebook Group: Every member in our gym is invited to join our private FB group where members and coaches share funny posts, motivating updates, personal accomplishments, educational resources, gym/facility updates, etc. Even if you do not see everyone in person, we all can still share relevant information with each other to keep the momentum going.

Weekly "Coach's Corner" FB Live videos: Coach Alex and Coach Kyler post a weekly video in our private FB group, talking and discussing about topics that our members have shared interest in. Previous topic examples were:

Hip flexor stretches and mobility techniques to help with low back pain

Proper deadlift form and cues

Protein and how to figure out the correct daily intake for you

What cardio should you be doing based on your goals?

Why is muscle tissue so important, and how do I attain it?

How do you enhance the way you Recover?

Random 'Myths' for us our coaches to bust

Many, many more!

COMMUNITY: There are many things that go into building a strong community. Specifically for Tone2Day, our members form strong friendships, attend each other's important life and social events, cheer for those completing a race or fitness event coming up, and help each other with their own personal goals. We have even had our own members hold seminars for everyone to attend!